There are plenty to choose from each theme: DonJon, Tavern, Sewer and cavern theme. 

Choose your favourite side
Most of the tiles are double sided, giving you even more options to build the perfect world (or change it later)

Build it using the magnets
All of the floor tiles and bottom of wall tiles are equipped with magnets to attach or detach as you please – build something epic or make changes as you go, we have got you covered!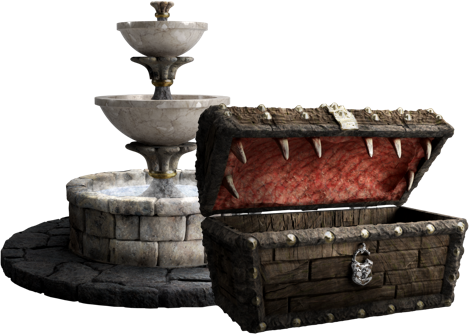 Add decorations & furniture
Now you have the base structure in place – the walls and floors. But what really gives the place a personality , flare and "life" is what you decorate it with – and there is a lot to choose from.

Did you really think that everything is exacly how it looks? Suprise your players by setting traps or adding mystery with marker tiles – Whats life without some mishaps?


Bring to life with sceneries
What's a world without some monsters, creatures or mystical items? Spruce up your map with sceneries from 9 different possible themes. Oh – and did you know, you can paint them yourself?


Fair game with dice towers
You know those people who barely even push the dice and then claim they totally rolled it fair? Yeah, not on our watch. Use the dice towers to show 'em whos the boss.


Having awesome dice is important but where to keep them? Are you sure they are even safe? With dice chests you can relax at night knowing that your dice are safe and sound.


There are 25+ fully ready made sets in 4 different connectable themes that contain everything you need – just set it up and let the games begin!
Are you Ready to be epic?